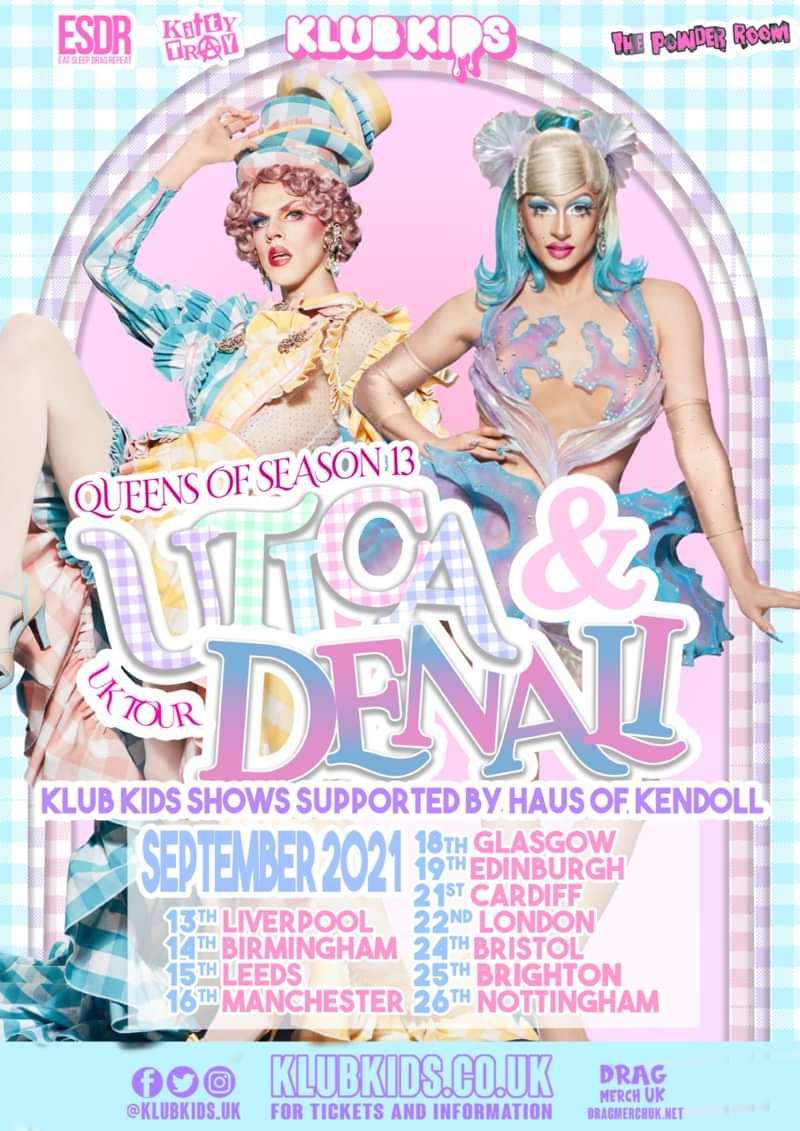 Eat Sleep Drag Repeat presents:
ESDR presents Utica & Denali (14+)
Buy Tickets
ESDR presents Utica & Denali - UK Tour!
We're bringing you Utica AND Denali, two queens from RuPaul's Drag Race Season 13 who got the chop too soon!
Denali Foxx (or simply Denali) is the season 13 figure skater, choreographer and fan-favourite who received the dreaded "sashay away" from RuPaul after competing in a soulful lip-sync smackdown with Olivia Lux to Mary Mary's signature single, Shackles (Praise You). Denali's departure was met with resistance from fans, who hailed her elimination as another case of a contestant being "robbed" from their place in the competition, much like Katya in season seven and Jan in season 12.
Utica is Minneapolis "wacky, wavy inflatable arm tube queen" taking the world by storm with her goofy, pop-art drag. Both artists will give headlines performances as part of this club/cabaret show, which will also feature guest artists from around the UK.
Eat Sleep Drag Repeat is hosted by award-winning drag prince Alfie Ordinary, bringing you boundary-pushing contemporary drag with a big heart.
VENUE ACCESS INFO This is a standing club/cabaret-style show featuring guest artists, headlined by Utica. The Queenshilling has two steps up to the main door, and entrance via the side door for wheelchairs. The main performance area is up three steps although the performance is visible from the bar and is also shown via live camera feed on televisions in the venue. The venue toilets are down a steep flight of stairs. Disabled patrons are advised to use the toilets at OMG bar opposite. Flashing/strobing lights will be used in the show.
TICKETS & TIMINGS Photo Ticket Doors: 6.30pm General Entry Doors: 7.30pm Show Start: 8.00pm
Photo Ticket includes a photo opportunity with the artist(s), please note that these times may be adjusted in line with government restrictions around Covid-19.
REFUND POLICY We want you to feel safe buying event tickets during the uncertainty of the Covid-19 crisis; given the unpredictable nature of the pandemic, we guarantee that if our events are rescheduled to new dates and you can't make it, we'll offer a full refund during the two weeks following reschedule. Our standard no refund policy applies after this time has elapsed. We will email all ticket buyers to inform them of any reschedule and inform them of this policy, should the need to reschedule arise.
AGE RESTRICTIONS 14+ (14-17 year olds must be accompanied by an adult)
CREDITS Tour produced in partnership with Klub Kids. Visit www.klubkids.co.uk/ for links to other tour dates.